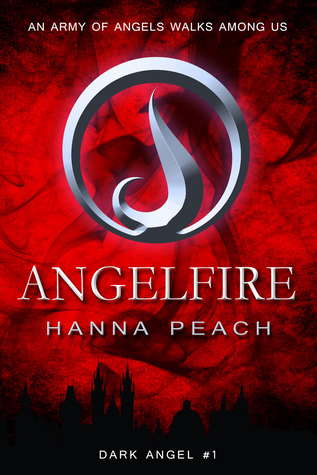 "Forget everything you know about angels…
You'll likely find Alyxandria slicing demons with her blades rather than plucking at harp strings. Whether it's with weapons, unarmed or with the "borrowed magics" of distilled angel-blood tattoos, she trains harder than any other Seraphim warrior to prove she is nothing like her parents who   abandoned her to become Rogues.
When Alyx starts displaying the signs of a strange new magic, most don't believe her and no one has answers for her. She starts to investigate for herself. The web of lies she uncovers will shatter her world and she'll be forced to risk everything for Israel, a mortal she barely knows.
Alyx and Israel will soon realize that their destinies are inexplicably tied – and that their choices will determine the fate of Earth itself.
It begins in Angelfire."
I absolutely love this book! When I read the synopsis, it reminded me of The Mortal Instruments Series, which I love. Alyx has a wicked sense of humor and she's tough and can take care of herself. The plot was all tied together and I made so many connections and theories of who was secretly evil and what would happen next. I also love the prophecy, it added a destiny and also an obstacle for Alyx and Israel to overcome.
"A face in particular caught her attention. This seraph had a strong stubbled jaw and sun-streaked hair, loose and long like a gypsy. Even she could admit he was handsome, but that's not why he was standing out to her. This seraph was staring at her and he didn't look away when she glared back…The seraph laughed. 'The name's Jordan, by the way. Jordan Bonaven.' " (Ch. 3) I thought in the beginning of the book, that Jordan was going to be Alyx's love interest and I've actually been rooting for him. Then Israel came along and she feel in love with him. When Alyx decided it was better to stay friends, I was sad and excited because there was still, hopefully, a chance for Jordan and Alyx to be together. I love the story and the world that Hanna Peach created like the gates of heaven and hell being closed, the black stones, the prophecy, demons, angels, the Seraphs. Rate: 5 out 5 . I would recommend this book for my friends. I really enjoyed reading this book!